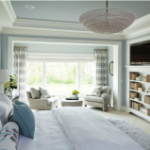 Wow us Wednesday:
Every Wednesday we will be posting a photo that really "wows" us!
Today, we want to highlight this tranquil master bedroom suite designed by Martha O'Hara Interiors.  This master bedroom suite includes a small seating area, beautiful views and an interior hallway to the master bathroom & closet.
We love all the shades of blue that are incorporated in this master suite. "Blue is a calming color and a great choice for a bedroom" says Neal Hauschild, owner of Nth Degree. People with blue bedrooms got more sleep than any other color, clocking in at seven hours and 52 minutes per night. Specialized receptors in our eyes — the same cells that inform our brain's daily rhythms — are most sensitive to the color blue, according to Chris Idzikowski of the Edinburgh Sleep Centre.
Is your room a shade of blue? If you want to add this gorgeous and calming color in your master suite, contact our designers at Nth Degree. 614-855-8533.
Experience the Nth Degree Difference
home furnishings & accessories, interior design services, renovation,
staging and real estate services in Columbus, Ohio.
• Turning ordinary houses into extraordinary homes •